Share:
---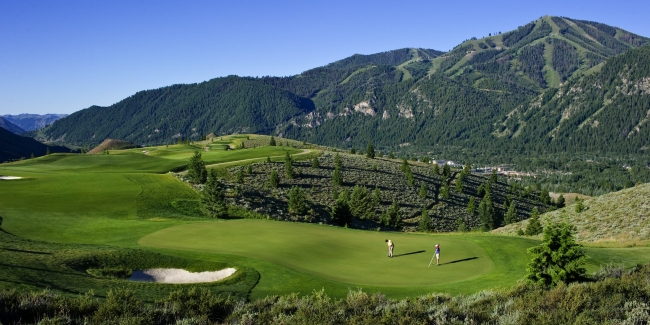 Sun Valley Welcomes Golfers for 2012 Golf Season
Idaho Golf Resort Officially Opens 45 Holes of Golf This Week

Sun Valley Resort, the historic mountain destination in south central Idaho, has officially opened all three of its courses for the 2012 golf season, offering guests 45 holes of play and the introduction of its Premier Unlimited Golf Package.

Favorable spring weather has created near-perfect course conditions on its Trail Creek, White Clouds and Elkhorn Golf Club layouts. This is the first full season that Sun Valley will offer 45 holes of resort play, after acquiring the adjacent Elkhorn private club last summer.

The resort's Unlimited package takes advantage of long summer days from June 23 to September 3, offering preferred tee times on the three courses throughout the guest's stay, plus overnight accommodation and shuttle transfers between courses, starting at $320 per player, per night. It includes complimentary access to the 18-hole Sawtooth Putting Course, as well.

"Word is spreading that Sun Valley's golf offering has broadened considerably with the Elkorn addition," says Rick Hickman, Director of Golf Operations. "By including a championship private course experience to our popular resort play on the Trail Creek course and White Clouds alpine layout, we've increased the value of our golf packages for individuals and groups."

Golfers looking for May play can reap Early Birdie benefits with golf packages starting at $119 for golf and overnight accommodations. All packages can be booked online via the resort's new golf portal at http://www.sunvalley.com/golf. Golf season passes are also available for local play.

Via the website, golfers can also explore the variety of resort activities and amenities offered at Sun Valley, including fly fishing, skeet shooting, boating, mountain biking, fine dining and live entertainment via its outdoor amphitheater and ice shows, as well as an abundance of family activities.

The resort is accessed via nearby Friedman Memorial Airport, with direct service via Delta and Alaska Airlines from major western cities such as Salt Lake City, Seattle and Los Angeles, and via several direct flights daily into Boise Airport.

Alaska Airlines is currently offering airfare deals for golfers from select cities in Washington state directly into Friedman Memorial Airport from now through May 28, for stays from June 3 through July 31.

Sun Valley is now accepting reservations for the spring, summer and fall seasons. For more information and reservations, see http://www.sunvalley.com/golf or call 800.786.8259.

About Sun Valley Resort

Founded in 1936 as the first ski resort in America and the recognized inventor of the chairlift, Sun Valley Resort hosts four-season activities for vacation and business travelers, local and regional guests, and families and kids. Continuously modernizing amenities and service standards, Sun Valley is perennially ranked "best of" by major ski, golf and travel media.

On-site skiing, golf, concerts, hiking, biking, fishing, shooting, bowling, theater, concerts, spa services, swimming, shopping and casual and world-class restaurants, meetings and convention space, weddings and special events rank Sun Valley atop all other U.S. destination resorts for number of recreations. Top classical and other musicians from around the world perform at the annual Sun Valley Summer Symphony and scores of Olympic figure skaters showcase their talents at ice shows on Sun Valley's legendary rink. Sun Valley is also famous as an escape resort for Hollywood stars and America's foremost business leaders.

The 148-room Sun Valley Lodge accommodates individuals, couples, families and groups, combining modern and luxury features with old-world charm, and is steps from Sun Valley Village.

Residential real estate is now available at Sun Valley for the first time in 30 years. The new White Clouds neighborhood features only 28 home sites, all plotted for majestic mountain and golf-course views. For more information: www.whitecloudsresidences.com, 800.894.9939.

Originated in 1936 by Union Pacific Railroad, Sun Valley Resort is now privately held by the R. Earl Holding family, owner of Sinclair Oil Corporation. Sister properties include Snowbasin Ski Resort, Grand America Hotel, Little America Hotel and Towers (all Salt Lake City, UT), Westgate Hotel, San Diego, CA, Little America Flagstaff, AZ, Little America, WY, and Little America, Cheyenne, WY.

For more information about Sun Valley Resort: www.sunvalley.com, 800.786.8259.
News Source: Buffalo Communications
Posted May 17, 2012 || Viewed 869 times
Share Comment
Like Us For Local News and Specials